Due to the BenQ TH585 small size and lightweight, it is simple to locate a ceiling mount that will work for it. The majority will want to mount this projector, which is wonderful news. Although it doesn't have an absurdly long throw distance, a 100″ screen requires around 11 to 12 feet of room to be produced.
Once you have the TH585 installed, you will have a good selection of choices for fine-tuning the image alignment. This features a +/- 20% vertical lens shift to account for different mounting heights and an automatic vertical keystone correction to square the image.
With two HDMI connections, a VGA input for content, a USB port for peripherals, and 3.5mm audio in/out choices, the BenQ TH585 is very practical in terms of connectivity. Some customers might discover they don't need additional speakers as the device has a 10-watt speaker built in. The midrange clarity and loudness output are comparable to those of most TV speakers. However, if you want to utilise an external surround sound system or any extra speakers, this audio jack will be useful.
Our Verdict
The BenQ TH585 projector is reasonably priced, has high colour accuracy, and has low input lag for gaming. It also has enough brightness for a huge display that can withstand ambient light.
Pros
The bright lamp is functional in every interior lighting situation.
Clearly defined full HD picture
Low latency and responsive in game mode
Simple setup with keystone correction and vertical lens shift
Outstanding value
Speaker is suitable for video games and television
Cons
No support for 4K content
Highlights
Full HD 1080p Image at 3500 Lumens in Well-Lit Environments
Amazing experience with 95% approval. Movie Color 709 and 10W Speaker.
Low Input Lag (16 ms) and Dedicated Game Mode
The BenQ TH585 is a small and lightweight projector that can be fixed to the ceiling or set up on a table with movable legs.
Getting a home entertainment projector — like BenQ TH585 — means freedom from TV screen size and it doesn't cost the earth.
Whether you're into Netflix or Need for Speed, the new BenQ TH585 claims to have you covered.
What's in the box?
The BenQ TH585 projector, a power cord, a VGA cable, a remote control, an FHD Fire TV stick, two triple-A batteries & a user manual guide.
Price and Availability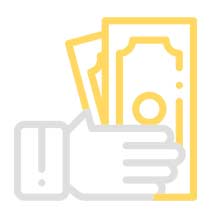 The BenQ TH585 is available for just under ₹71,000.00. You can get more detailed information about the BenQ TH585 current price and availability by consulting us.
---
Design
The BenQ TH585 projector looks very similar to the other BenQ projectors we have previously seen. It has the matte-white finish from BenQ with heat-dissipating exhaust vents on the front and right. The zoom and focus ring for the lens is located on the top along with the physical projector control buttons. The connectivity choices are located at the rear and include two HDMI ports, audio-in and audio-out connectors, one USB Type-A port, two D-sub ports, and RS-232 (input and output). Additionally, BenQ includes a small remote control to make operating the projector simpler.
Picture Quality
A full HD projector with a native resolution of 1080p is the BenQ TH585. It doesn't support 4K or greater resolutions, as is typical with projectors in this price range, so if you want Ultra HD you'll need to expand your pricing range. It provides all forms of entertainment, including games and 3D movies, with the same full HD resolution. In terms of comparison, the TH585 is superior in the price range. The visual depth is adequate, the dark levels are rich, and the details are clear. You won't need to turn off the lights in order to enjoy the image from this projector since the contrast remains great in any indoor light setting due to the powerful 3,500-lumen bulb.
Want to Know How to Choose the Perfect Solution for Your Audio System?
Specifications
| | |
| --- | --- |
| Brand : | BenQ |
| Model : | TH585 |
| Dimensions : | 312 x 110 x 225 mm |
| Net Weight : | 2.79 kg |
| Contrast Ratio : | 10,000:1 |
| Brightness (ANSI lumens) : | 3500 |
| Resolution : | 1080P (1920×1080) |
| Power Supply : | AC 100 to 240 V, 50/60 Hz |
Conclusion
The BenQ TH585 is a superb option. Its game image setting enhances the visibility of dark sections of the screen, making it ideal for RPGs, horror games, and other genres where you must quickly identify foes and loot.
Additionally, gamers will like the BenQ TH585's responsiveness. Its estimated input latency is roughly 16ms, which is low enough to provide lag-free gameplay even when playing online multiplayer games with quick reflexes. With support for systems like the PS5 and Xbox One X from the most recent generations, it is especially well-suited for console players.