When you need a quick fix for a gathering at home, outdoors, or with close friends, a portable projector is a terrific tool. They are lightweight, portable, and simple to set up. Here's the latest palm-sized portable projector from BenQ GV1, which also has built-in speakers and is equipped with a carry case, remote control, and charger.
The BenQ GV1 Portable Projector connects to any device with ease, making setup a breeze. My iPhone was used for the initial setup, which was completed in under two minutes. Simply set up the WiFi network, connect your laptop or smartphone wirelessly or with a cable, and then access your preferred content. The GV1 has a speaker-like form and a sound grille that mixes in well with the projector portion at the top, which you can tilt to get the ideal image angle. The device can also be mounted on a tripod.
Our Verdict
A small selection of apps and few physical connectivity options are available on the BenQ GV1. It is difficult to suggest it as a portable projector because limitations with wireless streaming make it a little tough to use when connected to a smartphone.
Pros
Small and light
Built-in Netflix, Amazon Video and Disney+
Battery powered
Cons
Horrible interface
Not very loud
Very dim on battery power
Get an Immediate Inquiry Regarding the Product You Are Interested In.
Highlights
A 480p 200lm mini projector for user-friendly connectivity with HDMI and USB-C.
Hassle-free wireless set-up with auto keystone and 15 degree tilt for a big, squared picture, quickly and with ease.
NOTE: Copyrighted content from Netflix, Hulu, and similar services CANNOT be mirrored or screencast.
What's in the box?
Power Plug, Warranty Card, Bluetooth Remote Control and Manual
Price and Availability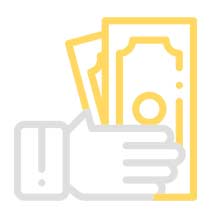 The BenQ GV1 is available for just under ₹40,000. You can get more detailed information about the GV1 current price and availability by consulting us.
---
Design
The BenQ GV1 is a cute, compact, and powerful projector. For something that is only 155mm tall and 80mm deep, that is surprisingly astounding. The shape is reminiscent of a tall Bluetooth speaker, a style that has worked well for portable electronics. The projector's top may be tilted by 15 degrees, providing you additional freedom to position the image that will be displayed. It is important to note that the projector automatically applies keystone in order to maintain the projection's intended shape. Although using this technique results in a slight reduction in quality, your image will look more realistic overall.
The GV1 doesn't have a zoom-in or zoom-out feature, unlike conventional projectors, but you can change the focus using a dial on the left side of the tilting top. Because utilising the GV1 too far from your wall does result in clarity loss, we advise against doing so. Although being closer and viewing a smaller image will result in a much better experience, we also advise staying as far away from the wall as possible—up to 3 metres.
Picture Quality
In spite of the GV1's theoretical ability to display a 100-inch image, it is quite improbable that you will be able to go that large. The maximum lumen output of this projector when plugged in is 200. Try using it in the daylight for a display the size of a computer monitor; as it becomes darker (or if you close your blinds), you can choose something with a screen size of about 60 inches. Instead of providing a true cinematic experience, think of the GV1 as delivering a huge TV-sized image.
You must wait until it is almost completely dark outside before using the projector. In the shadow, a projector with more brightness can be used, but not this one. If you switch to battery power, the brightness dramatically decreases, making it extremely tougher to work in the light. My recommendation is to use this projector whenever possible on mains power, which is made slightly more challenging by the absurdly short power connection, which makes positioning the projector sufficiently far enough from a screen or wall very challenging. There has to be an extension cable.
Want to Know How to Choose the Perfect Solution for Your Audio System?
Specifications
| | |
| --- | --- |
| Brand : | BenQ |
| Model : | GV1 |
| Brightness : | 200 |
| Native Resolution : | WVGA (854×480) |
| Contrast Ratio : | 100000:1 |
| Dimensions (WxHxD) (mm) : | 80 x 155 x 80 |
| Net Weight (kg) : | 0.7kg |
Get an Immediate Inquiry Regarding the Product You Are Interested In.
Conclusion
Overall, especially for the price and size, the BenQ GV1's build quality and brightness are excellent. Physically, it's designed for mobility, but input lag prevents it from being ideal for quickfire party games, and it's difficult to set up in a new place. If you want something to casually project YouTube or Netflix, this is fine, as long as you don't require the weak speakers to compete with other loudness sources. Once it's up and running, it does a lot of things really well.