A 0.23-inch DMD (Digital MicroMirror Display) chip powers the Xgimi MoGo Pro. It is produced by Texas Instruments, like other DMDs, and has a typical resolution of 1920 x 1080 pixels (full HD). According to XGIMI, the light has a 30,000-hour bulb life and a brightness of 300 ANSI lumens. It is powered by an Amlogic T950X2 system-on-chip with a Mali-G31 GPU, 2GB of RAM, and 16GB of internal storage. Remember that this is an Android TV 9.0 system, so it's reasonable to feel a little underwhelmed.
Comparatively, an Android thin client with a comparable setup. Connectivity is accomplished through Chromecast, Bluetooth 5.0, and 802.11n Wi-Fi, while Harman Kardon, which is owned by Samsung, provides high-quality audio. A 36Whr/10400mAh battery, powered by a 65W power adaptor (19V,3.42A), keeps the projector working untethered.
Our Verdict
The MoGo Pro provides an excellent viewing experience on a smooth, white wall, anything shown at native resolution appeared vibrant with colour. In terms of performance, the XGIMI MoGo Pro starts up rather swiftly and autofocuses promptly.
Pros
Excellent picture quality
Standard Android
Amazing design
Extremely small form factor
Decent audio reproduction
Cons
The USB port is 2.0 type
No card reader
Highlights
Inside the projector, there is an Amlogic T950X2 chip and the graphics processor is an ARM Mali-G31.
The projector has 2GB RAM and 16GB of storage and the performance is fast.
It is not as bright on the battery as when the device is connected directly to mains power.
There are touch panels on the smooth top of the projector to control the volume or start/stop videos.
In the settings section, you can adjust the frame rate, voice output, HDMI settings, and image mode.
It also has auto keystone adjustment through the remote control up to 40 degrees to the side if you do not want to have the projector in front of you.
You can use the Mogo Pro while connected to the power source or use it on battery power.
What's in the box?
XGIMI MoGo Pro, a sleek controller, its power cable, Handbook Manual
Price and Availability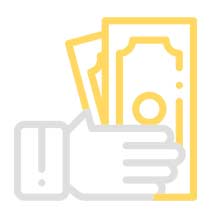 The XGIMI MoGo Pro is available for just under ₹61,999.00. You can get more detailed information about the XGIMI MoGo Pro current price and availability by consulting us.
---
Design
The MoGo Pro is a little projector that resembled one of those generic tea-bag storage containers. It is shaped like a cylinder and has a polished appearance, much like a product whose design philosophy integrates form and function. There are no flashy colours used here; instead, white and grey dominate the design. Three sides have ventilation holes that conceal speakers and a fan, while the rear has a power outlet, a USB 2.0 port, an HDMI port, an audio connection, and an on/off button. An indicator light, touch-sensitive volume controls, and play/pause buttons are on the top. A tripod screw, rubber base, helpful information, and notices are concealed in the base. It weighs a substantial 895g despite having relatively small dimensions (146 x 106 x 95mm), so keep that in mind if you want to purchase a tripod for it.
Picture Quality
A DLP chip with FHD (1080p) resolution and 300 ANSI Lumens of brightness powers the XGIMI MoGo Pro's display output. Like the majority of projectors this size and price, to see the picture, you'll either need to place the projector close to the wall or in a room with low light. The projector can also receive 2K and 4K inputs through HDMI, which downscales to a somewhat sharper 1080p image. The picture gets smaller and brighter the closer you are to a wall. The projector can produce images as large as 100 inches, according to XGIMI. The 106-inch screen was adequately lit by the projector in my basement's dim environment, although being a little on the dim side. However, the screen's image was clear and the colours were acceptable. You may change a number of settings to better fit your surroundings in an effort to achieve a clearer view. They contain the settings for Bright, Standard, Soft, Office, and Games. Accessing the Custom setting will also allow you to manually change the brightness, contrast, saturation, sharpness, noise reduction, and colour temperature.
Want to Know How to Choose the Perfect Solution for Your Audio System?
Specifications
| | |
| --- | --- |
| Brand : | XGIMI |
| Model : | Mogo Pro |
| Dimensions : | 15 cm x 10 cm x 9 cm |
| Weight : | 0.9 kg |
| Brightness : | 300 ANSI Lumens |
| Resolution : | 1920 x 1080 |
| Lamp Life : | 30,000 hours |
| Power : | 55 Watts 100V – 240V |
Conclusion
This device has lots of options, a strong punch, and no noticeable learning curve. It is the best there is in terms of image reproduction and sound quality, which are the essential attributes. Although you could have been able to find another one for a lesser price, trust XGIMI since they have so far been able to make excellent projectors. The XGIMI Mogo Pro is one of the first portable 1080p (Full HD) projectors. Xgimi will never disappoint you with its feature so you should go for the Xgimi Mogo Pro.