A 60W per channel high-performance integrated amplifier is the Naim NAIT 5si. The Naim NAIT 5si will listen to your music at its core. With the grip and power you would expect from Naim, it engages even the trickiest rhythms and challenging dynamics. Its ingenious AV bypass mode, which enables the simple coexistence of different AV and hi-fi systems, only serves to increase its attractiveness.
Four analogue inputs and a 60 Watt per channel power amplifier are offered by the Naim NAIT 5si. It incorporates a wide range of Naim SI series product technologies in order to transmit music's foundations as effectively as possible. And it does communicate. Clarity, compelling dynamics, and most importantly, contagious excitement are all features of the NAIT 5si.
Our Verdict
There's no doubting the Nait 5si's talents; it will shine at the core of any system made up of talented-sounding, like-minded electronics. The competition is tough, but this is a five-star performer.
Pros
Strong rhythmically and dynamically
Numerous details
The strong but elegant sound
Energetic
massive scope and power
Cons
Possibly smoother
challenging competition
Highlights
60W per channel power output
Four inputs with support for both DIN and RCA connections
1/4" (6.35mm) headphone output
AV bypass mode for simple connection to an existing AV system
Preamplifier, power amplifier, and subwoofer connections
Warranty: 1-year Manufacturers Warranty
What's in the box?
Amplifier, NARCOM-4 Remote Control, Power-Line Lite, mains cable
Price and Availability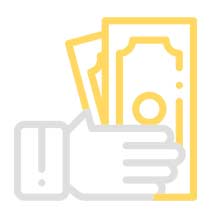 The Naim NAIT 5si is available for just under ₹125,000. You can get more detailed information about the Naim NAIT 5si current price and availability by consulting us.
---
Design
The majority of the alterations are found underneath the hood. Thanks to a bigger toroidal transformer and enhanced power supply, power output increased from 50W to 60W per channel (into 8 ohms). Improvements to the main circuit board, wire loom, and all signal capacitors have also been made, all of which were inspired by work done on the superb Naim DAC-V1. Four stereo RCA inputs and two DIN connectors are still the only inputs available. The Naim Nait 5si has no screen, thus the input you choose will have a green circle of light surrounding it. Simple but powerful.
Sound Quality
The NAIT 5si is the greatest example of the original product; it has a discrete headphone amplifier fitted along with line-level integration and produces excellent sound. The NAIT 5si features a 60 Watt per channel power amplifier and four analogue inputs. It has a brand-new headphone amplifier and incorporates a wide range of Naim product innovations in order to maximise its capacity for conveying the essentials of music. And it does communicate. Every music source and genre benefits from the clarity, compelling dynamics, and, most importantly, contagious excitement of the NAIT 5si.
Want to Know How to Choose the Perfect Solution for Your Audio System?
Specifications
| | |
| --- | --- |
| Brand : | Naim |
| Model : | NAIT 5si |
| Dimensions : | 70 x 432 x 301 mm |
| Weight : | 6.8 kg |
| Input Impedance : | 20kΩ |
| Analogue Input : | 2 x DIN, 4 x RCA |
| Input Sensitivity : | 150mV |
| Power Consumption (max.) : | 300VA |
Get an Immediate Inquiry Regarding the Product You Are Interested In.
Conclusion
However, the NAIT 5si easily prevailed because of its favorable price/performance ratio and unique personality. The NAIT 5si is undoubtedly a component that I believe you should check out if you're looking for an all-analog integrated amp, providing you can set up an audition soon. Whether you plan to use it with an all-analog hi-fi system.